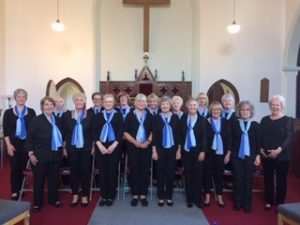 You have reached the page of Nantwich Ladies Choir which is found on the Singing Centre Nantwich website. 
We meet at St. John's Church, Willaston on most Tuesday mornings between 10am and 12 noon. The choir is directed by Susan Marrs and accompanied by Ann Oliver.  At the present time we have approximately 20 members. Entry is by audition but please come along and join us at a rehearsal if you would like to!
The choir gives an early summer concert and a Christmas concert at St. John's each year. Fees are paid termly in advance and include a rehearsal fee of £6 per week and a music hire contribution of £10 per concert. If you would like to know more about the Nantwich Ladies Choir please email Susan at susanvmarrs@gmail.com
We look forward to welcoming you.
This page is linked to my Singing Centre Nantwich website.  Regrettably due to such a high response, I'm not taking on any new one-to-one clients at the moment but you can read more about me on my Biography page.